News
Nearshoring: An Alternative to Fixing our Fragile Supply Chains
Pandemics, Hurricane Ida, dozens of ships waiting outside the harbor to enter the Port of Los Angeles and the blockage of the Suez Canal by the Ever Given are just some examples that demonstrate the fragility of our supply chains. These recent events have emphasized the importance of resilient supply chains. In the past, the need for lower costs has shifted many of our supply chains to Asia. These supply chains kept up with the "just-in-time" demands of modern consumers. However, the events of the last two years have proven that our lengthy supply chains are not only fragile and unsustainable but also do not meet the needs of companies and consumers. The United States must look for other options for its supply chains. Nearshoring could be one of those answers.

Nearshoring is when businesses move their operations to a nearby country from a distant one. The US has relied heavily on Asian countries, especially China, for its imports. However, the US has overlooked many low-cost alternatives in its own hemisphere. Encouraging a shift of its supply chains from Asia to Latin America will mitigate some of the risks of its overreliance on far-flung countries. There are additional benefits to shortening our supply chains such as reducing our operating costs and transportation time for key commodities, parts, and materials. American influence in the Western hemisphere remains strong and friendlier governments in Latin America will be more reliable long-term partners than Asian countries with stronger ties to China. The end result of nearshoring is that our supply chains will be much more resilient to sudden shocks.
A shift to Mexico will be particularly advantageous for improving our supply chains. US and Mexico have a long history of cooperation, which was bolstered by the recently implemented USMCA agreement. In a recent survey by Kearney, many executives believe that nearshoring to Mexico and Canada would be advantageous. Furthermore, the survey revealed that 49% of manufacturers with offshore facilities agreed that the benefits of onshoring production outweighs higher labor costs. Mexico could take advantage of this positive reshoring sentiment to attract manufacturers wanting to move closer to the US. In addition, Mexico's lower cost of labor makes it an attractive market that might even rival the Asian countries which American companies have historically relied on.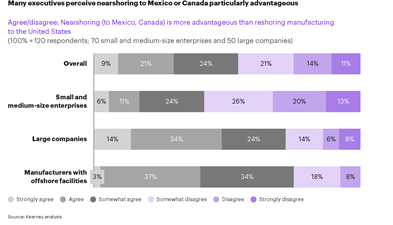 Mexico has proven itself as a reliable source of supplies for the US. There is established infrastructure between the US and Mexico that facilitates the movement of billions of dollars of goods every single day. Northern Mexico has developed strong ties with the US because of its strong trade relationship that has supported key sectors such as auto-related production and technology. Despite concerns about Mexico's economic and political situation, Mexico's competitive advantage makes it a strong candidate for nearshoring.
The window of opportunity for moving our supply chains will be short. Many manufacturers are looking to shift production within the next three years. There is also an increased sense of urgency that exists while the memories of the supply chain shocks are fresh and ongoing. Once the situation stabilizes, the benefits of nearshoring will decrease until another global shock once again demonstrates the importance of shorter and more resilient supply chains.
Bibliography
"The Case and Path of Development for Ally-Shoring: Mexico." Elaine K. Dezenski and John Austin. US-Mexico Foundation. February 2021.
"Global pandemic roils 2020 Reshoring Index, shifting focus from reshoring to right-shoring." Patrick Van den Bossche, Brandon Blaesser, Yuri Castano, and Kelsey Serraneau. Kearney. 2021.
You may also be interested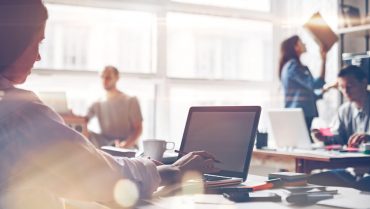 11/23/21
News
Gold Leaf Capital Partners Closed a $3.3M deal in Mexico
This week we are thankful for closing deals and providing access to capital. We were fortunate enough to close a $3.3M deal for our new clients based in Monterrey, Nuevo León, Mexico.
Read more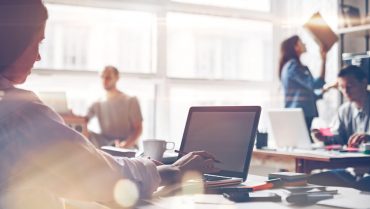 10/25/21
News
Gold Leaf Capital Partners Featured in Crain's Chicago Business
Want to close the generational wealth gap? Invest in minority-owned private-equity firms.
The need to have money to make money acts as a filter that blocks the potential of Black and Brown money managers, writes this Chicago firm founder.
Read more